The new 2022 Chevrolet Silverado ZR2
Chevy is a legendary name in the world of pickup trucks, and the Silverado is arguably its best-known product. Over the years, the Silverado has gone through a variety of evolutions, improving its appearance and performance. The latest addition to the Silverado family is the ZR2, and it brings the same reliability and power Chevy is known for while adding some new features. At Stan McNabb Chevrolet, we're excited about the Silverado ZR2, and we think you will be, too. Continue reading for our overview of this great pickup.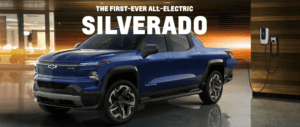 What is the Chevy Silverado ZR2?
The Chevy Silverado ZR2 is the newest addition to the Silverado family. It's a new trim for 2022, designed to provide exceptional off-road performance. The ZR2 provides an additional upgrade over the existing Trail Boss trim, already known for its ruggedness, power, and reliability. Although many of the truck's features are designed to enhance its off-road capabilities, it also includes a range of cosmetic upgrades and a redesigned interior.
Exterior
While the Silverado has always featured rugged good looks, the 2022 series takes this to the next level. The new ZR2 features a redesigned exterior that complements its performance and technology upgrades. When looking at the truck from the front, the first thing you'll notice is the unique black chrome grille. This eye-catching feature is further enhanced by accent lighting and a Chevy flowtie. Just above the grille, the ZR2 features a unique raised hood with a restyled black insert that sets it apart from other Silverados.
Chevy's ZR2 comes standard with 33-inch tires and exclusive wheel flares. Additional exterior features include LED headlights with tracer animation and black bezels, a concealed dual exhaust, and all-steel front and rear bumpers that enhance the truck's off-road toughness. Like other trucks in the Silverado series, the ZR2 is available in several exciting colors, including Red Hot, Northsky Blue, Dark Ash, Summit White, Silver Ice, Black, and Sand Dune. The stunning Glacier Blue Metallic is also available for a bit extra.
Interior
Chevy's team has redesigned the interior of the ZR2 to provide enhanced comfort during long off-road adventures. The finished product reflects the same attention to detail and breathtaking design that characterizes the truck's exterior. While the ZR2's seating configuration will vary based on your choice of cab, each vehicle features a striking Jet-Black and Graystone interior color scheme with perforated leather seat upholstery. Wood highlights also add a touch of interest to the areas around the doors, dashboard, and console.
The upgrades aren't just limited to the interior appearance. The ZR2 also includes a range of technology upgrades that will appeal to drivers of all ages. For the driver, the ZR2 features a 12.3-inch diagonal, reconfigurable information display. The center of the console is enhanced by a 13.4-inch color infotainment touch screen to aid all your listening and navigating needs. The ZR2 is also available with a premium Bose audio system and a driver head-up display.
Power
The heart of the Silverado ZR2 is its off-road capability, powered by a rugged powertrain. Unlike other trucks in the Silverado family, the ZR2 comes standard with a 6.2 Ecotec3 V-8. This engine licks out 4200 horsepower and 460 lb-ft of torque, making it capable in a variety of off-road applications. The V-8 is paired with a 10-speed automatic transmission and a two-speed transfer case. The truck features both two-wheel and four-wheel-drive modes as well as an automatic feature that can make the transition for you.
Performance
Chevrolet has included a wide range of performance features on the ZR2 that help it outshine even the Trail Boss for outdoor performance. Starting with the outside of the truck, the ZR2 sports robust aluminum skid plates on its underside to protect components from damage during off-road drives. It also features an off-road cut front bumper for safely navigating declines.
Unlike some other trucks in its class, the ZR2 maintains a relatively narrow width, allowing it to navigate tight spaces on or off the trail. When paired with the standard 33-inch Goodyear Wrangler Territory Mud Terrain Tires, these external features make the Silverado ZR2 an off-road beast.
Not all of the ZR2's performance features are obvious on the surface. Its impressive on and off-road capabilities owe a lot to its advanced suspension. The ZR2 features Multimatic shocks that use three spool valves to manage difficult terrain. Additionally, the truck features custom coil and leaf springs in the front and rear, respectively. Front and rear e-locker differentials are another feature that helps the ZR2 manage whatever you throw at it. Finally, if you're planning to take a trailer with you into the wild, the ZR2 can make it easy with a maximum towing capacity of 8,900 pounds.
Safety Features
Whether you have kids or you're hauling a different precious cargo, safety is an important concern. The ZR2 can put your mind at ease with a full suite of safety features for on- and off-road driving. Like many of Chevy's other vehicles, the Silverado ZR2 includes the Chevy Safety Assist package. This includes automatic emergency braking to prevent collisions, front pedestrian braking, lane-keep assist with lane departure warning, forward collision alert, and following distance monitor to keep a safe distance between you and other cars.
The Silverado family also includes a range of additional safety features. These include rear cross-traffic alert, a rear camera mirror, lane change alert with blind zone alert, adaptive cruise control, and both front and rear parking assistance. A safety alert seat is also available for Silverado customers.
That's our overview of the Chevy Silverado ZR2. We hope you're as excited about this vehicle as we are. If you're interested in the ZR2 or any other Chevy vehicle, we'd love to see you at our showroom in Columbia. If you have any further questions about this truck, our inventory, our prices, or anything else, feel free to contact our staff at your convenience. Good luck with your car-buying journey and we'll see you soon!