Benefits of Chevrolet OEM Parts
As a car owner, you may eventually have to replace a part in your car to maintain an optimal operating condition and ensure your vehicle is safe to drive. Whether you need a new car part due to a collision or standard wear and tear, choosing the best part for your vehicle is crucial. Below, we discuss what OEM parts are and why it's beneficial to use them when repairing or updating your vehicle. If you're looking for genuine Chevrolet OEM parts in the Columbia, Tennessee area, Stan McNabb Chevrolet of Columbia can help. Call us today at (931) 548-1370.
What Are OEM Parts?
OEM parts are auto parts Chevrolet produces themselves, intended for use in Chevrolet vehicles. OEM is an acronym that stands for "original equipment manufacturer." These authentic parts may replace faulty parts and help your vehicle function safely and efficiently. The alternative to an OEM part is an aftermarket part. Aftermarket parts are third-party auto parts built to mimic authentic manufacturer-produced parts. While retailers often sell aftermarket parts at a steep discount, it's vital to use genuine OEM parts to protect your vehicle. You can typically purchase OEM parts directly from Chevrolet or a local Chevrolet dealership.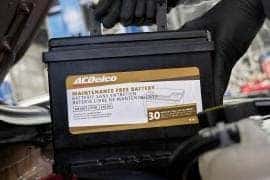 OEM parts include:
Oil filters.
Brake rotors.
Brake drums.
Air filters.
Starters.
Spark plugs.
Alternators.
Fuel injectors.
Control modules.
Fuel filters.
Windshield wiper blades.
Intake manifolds.
Manifold gaskets.
Tensioners.
Engine cooler lines.
Sealants.
Lubricants.
What Are the Benefits of Buying Chevrolet OEM Parts?
Maintenance is a vital part of vehicle ownership, and when it's time to replace a part in your car, it's important to choose the right ones. Purchasing OEM parts instead of aftermarket parts has many practical and financial benefits. Below are some of the reasons to buy OEM parts for your vehicle:
They're High-Quality
It's possible to find aftermarket auto parts from many third-party manufacturers for a bargain. But these parts typically don't come with the same quality assurance you get when buying directly from your car's manufacturer. Genuine OEM parts are built by Chevrolet-trained professionals, and they meet a series of rigid quality standards. Plus, OEM parts come with manufacturer warranties ranging from one year to a lifetime, depending on the part you use and the technician who installs it. When you purchase an OEM part, you can trust you're getting the best possible iteration of the part you need.
They Last Longer
Car repairs can be an unplanned expense, and the last thing many car owners want is to pay for the same repair twice. Chevrolet creates OEM parts with longevity in mind, so you can trust that your investment is worthwhile. For example, parts like shock absorbers, wheel bearings, and fuel pumps usually include a lifetime warranty, so you'll never have to pay for another replacement. Opting for a genuine part could help you avoid another time-consuming and costly trip to the mechanic.
They're More Secure
A vehicle is a big investment, and it's important to protect it. Using the parts Chevrolet intended for your car may maximize your car's life and help you stay safe on the road. Without warranties or guaranteed quality assurance measures, aftermarket parts can be risky. Choosing the wrong part for your vehicle or purchasing a faulty part from a third-party retailer could do lasting damage to your car or even cause an accident. Plus, many Chevrolet warranties require owners to use OEM parts, so it could be a financial risk to buy an aftermarket part.
They're Fit for Your Chevrolet
When buying OEM parts, ensure that you choose the right part for your model and year. These parts mirror the exact specifications of the original parts, so your replacement will fit your vehicle's size and needs. You can even search Chevrolet's website by your model or vehicle identification number (VIN) to learn the exact parts you need for your vehicle. Opting for authentic parts helps ensure that your car delivers optimal performance, just like the day you purchased it.
They're Easier to Find
When you shop aftermarket, you may have to scour through a massive selection of parts from various retailers to find the part you need. Contrastingly, purchasing a genuine OEM part for your vehicle is simple and stress-free. Because each model has unique needs, using OEM parts helps you identify the best one without an exhaustive search. Plus, because most shoppers purchase their OEM parts from a dealership, you can work with an expert technician who can help you identify exactly what you need. Car repairs can be overwhelming, and opting for authentic OEM parts can reduce the hassle.
Where to Find OEM Chevrolet Parts in Columbia, TN
If you're looking for genuine Chevrolet parts in the Columbia, Tennessee area, Stan McNabb Chevrolet of Columbia is your destination. We have an expansive inventory of parts for various Chevrolet models. Whether you're planning to replace a mechanical part or just upgrade your cabin, we have the better fit for your style. Our inventory is stocked with authentic, manufacturer-approved parts ranging from batteries to accessories. We also have a team of factory-certified technicians who can diagnose your car's issues, recommend the perfect part, and install your OEM parts properly. 
We understand how busy your schedule may be, and we want to make your repair experience as simple as possible. We offer online ordering using a simple form on our website, and if you need help getting your car to our dealership, we can tow it. There's no better place to service your Chevrolet than Stan McNabb Chevrolet of Columbia.
Choosing the right parts and accessories for your vehicle could help you maximize your car's life, protect your finances, and minimize the stress involved with repairs. Whether you want to upgrade your Chevrolet or restore it to optimal condition, our service center is happy to install the OEM parts you need. Call us or stop by our Columbia, Tennessee dealership today to learn more about our inventory and schedule.