Introducing The Chevrolet Bolt EUV 2022
While Chevrolet already offers some great electric cars, it's set to add to its lineup with the all-new 2022 Chevrolet Bolt EUV. The Bolt EUV, which stands for Electric Utility Vehicle, is similar in size to a small compact SUV and runs entirely on electricity. If you've been interested in getting an electric car, and you want one that comes with the quality that Chevrolet has come to provide, then the Chevrolet Bolt EUV may be for you. Below, we'll highlight its key features to help you decide.
Exterior Of The 2022 Bolt EUV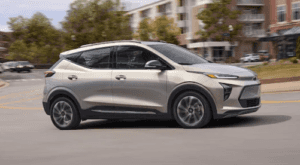 Let's start with the exterior. This smaller SUV-like vehicle has an attractive exterior that stems from its elegant shape. It also has a unique grille and hood design, giving the vehicle a great appearance when you're looking at it head-on. Perhaps most importantly, the Bolt EUV comes in several different color options:
Infrared Tincoat

Bright Blue Metallic

Ice Blue Metallic

Ghost Metallic

Silver Flare Metallic

Black Raven

Summit White
With so many color options available, you're sure to find one that suits your personal preferences and style.
Performance
Now, on to one of the most important factors to consider when purchasing any new vehicle: the performance. Under the hood of the Bolt EUV are a 200-horsepower electric motor and a 65-kWh battery pick. With these units, you should be able to get up to 250 miles on a single charge, meaning minimal stops for a charge.
When you take the 2022 Bolt EUV for a test drive, you'll also likely notice its responsiveness and how quickly it accelerates. This is due to the instantaneous power delivery you get when you use electric motors. Finally, since this is an SUV-like vehicle, you may want to drive over some rougher roads. If you do, you'll be happy to know that the Bolt EUV provides a smooth ride even here.
Interior Design of The 2022 Bolt EUV
The inside of the 2022 Bolt EUV is stylish and comfortable. A button to change gears is standard on all models, along with a flat-bottomed steering wheel. There's also a nice pattern to the upholstery, giving the interior a unique look.
An important element of SUVs is the amount of space inside, and the Bolt EUV doesn't cut back in this area. Compared to the Chevrolet Bolt Hatchback, the Bolt EUV has more room for all passengers. There's also plenty of room in the back for cargo, and you should have no trouble packing away all your stuff for a weekend getaway.
Interior Features
The features of the interior don't stop there, however. The 2022 Bolt EUV will come with plenty of technology features to rival all other vehicles on the market. For instance, you'll find 10.2-inch infotainment system that you can use to control many aspects of your vehicle. You can also connect the vehicle to other technologies, such as Apple Carplay, Android Auto, or Amazon's Alexa. This means you can stream your favorite music, navigate through your favorite apps, check your email, and add to your to-do list all while you're on the go.
In addition, you can also get an integrated Wi-Fi hotspot in your vehicle that will provide a stable internet connection to all your passengers. The 2022 Chevrolet Bolt EUV also gives you the ability to interact with it via a smartphone app. With this app, you'll be able to see when your vehicle needs a charge and connect to nearby charging networks, among many other features. All-in-all, the Chevrolet Bolt EUV provides plenty of entertainment and technology features to make even your longest rides more enjoyable.
Safety
Of course, safety is a prime concern for any new car buyer. The 2022 Chevrolet Bolt EUV will have some of the latest and best safety features currently available, ensuring that you remain as safe as possible while you drive it. Some standard features will include automatic emergency braking and lane-keeping assist. There's also the option to get additional safety features, such as the Super Cruise semi-autonomous driving system, which can adjust your car's speed based on the traffic in front of it.
Trims
The 2022 Chevrolet Bolt EUV will come in three different trim levels: the LT, the Premier, and the Launch Edition. Each one has the 200-horsepower engine and 65-kWh battery, meaning you'll want to base your decision on the additional features that come with each trim. If you want certain upgrades like leather upholstery or heated seats, you should look to upgrade to the Premier trim. The trim you decide on may also impact the color choices that are available.
Chevrolet EV Warranty
Finally, there are the warranty options available with the 2022 Chevrolet Bolt EUV. To start, Chevrolet offers a limited warranty that lasts for 3 years or 36,000 miles, whichever comes first. This covers basic repairs, but there are some exceptions. In addition to this warranty, there's also a powertrain warranty that lasts for 5 years/60,000 miles. Finally, all the electrical components within the Bolt EUV, such as the motor and battery, are covered for 8 years/100,000 miles. Between all these warranties, you should have plenty of protection against any of the biggest possible repair costs for the first years of ownership.
If the Bolt EUV sounds like the car for you, there's no better time to get one than now. These vehicles are going to grow in popularity, making them harder to find. If you want to get your hands on the trim and color options of your choice, your best option is to start exploring how to get one as soon as you can.
This is where Stan McNabb Chevrolet of Columbia can help. Our dealership staff is always standing by, ready to help you with your next vehicle purchase. We can not only set you up on a test drive but go through all your options with you and answer any questions you may have. To get started, contact us today and schedule a time to visit our dealership. Let us show you all that the 2022 Chevrolet Bolt EUV has to offer and why it should be your next car.