Introducing the 2024 all-electric Chevrolet Silverado
There's nothing wrong with being fashionably late, especially when the arrival revives the whole party. That's the hope for Chevy's 2024 Silverado EV. The first-ever Chevy EV truck looks fantastic — both in terms of appearance and confirmed specs. It has a longer range than competing electric trucks, it's reasonably priced, and it has the power to tow an adult Asian elephant. Stan McNabb Chevrolet of Columbia proudly introduces the 2024 all-electric Silverado.
Trim Levels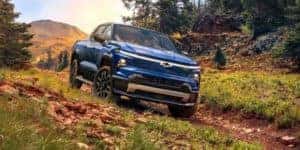 The Silverado EV will come in two variants: the WT (work truck) and a premium RST First Edition. Each carries GM's largest battery, providing an estimated range of 400 miles. The WT will be the first to arrive in 2023, followed by the First Edition in late 2023, with subsequent trim levels in the lineup to come.
2024 Silverado EV WT
This model is designed to get businesses to use electric trucks in their fleets. This starting edition gets 510 horsepower and 615 lb-ft of torque. The WT has a maximum trailering weight of 8,000 pounds and a payload capacity of 1,200 pounds. Chevy intends to produce other fleet variants with up to 20,000 pounds of towing capacity after the initial release.
2024 Silverado EV RST First Edition
The RST First Edition is an enhanced, stylish Silverado that builds off the WT. It adds 24-inch wheels, four-wheel steering, automatic adaptive air suspension, and a multi-flex midgate, plus an optional tailgate with multi-flex and power release. The latter feature improves the truck's load capacity while still keeping a seat for a back-row passenger.
A 17-inch LCD infotainment screen is linked with an 11-inch driver instrument display and a multi-color head-up display for the driver at nearly 14 inches in diagonal length. These screens can all be customized. Chevy Super Cruise, the first real hands-free driver-assistance technology in the industry, allows users to coast across over 200,000 miles of suitable highways.
Exterior Style
Designers opted for a bold, capable, and athletic appearance on the outside. The contoured front-end design efficiently routes air down the sides, lowering drag and turbulence. As a result, the Silverado EV WT is expected to have one of the lowest drag coefficients of any full-size pickup truck. This new design also helps increase the Silverado's total range on a full charge.
EV Technology
It's about time we got an electric system designed for a truck from the ground up. The Silverado EV is based on GM's sophisticated Ultium EV Platform, a major step by Chevy toward a zero-emission future. The vehicle's 400-mile range is made possible by a revolutionary body style that makes optimum use of the 24-module Ultium battery pack. Chevy claims that the vehicle's structural architecture provides greater strength, longevity, and performance than any past Silverado, plus more comfort on and off the road.
The RST has some fascinating tech elements, such as subtle animated lights to alert you when a vehicle approaches. A 17-inch diagonal LCD freeform infotainment panel with 3D animation is combined with the 11-inch driver instrument display, and there's still the head-up display on top of all that.
Performance
The e4WD system delivers power via front- and rear-drive motors. From moment to moment, it can also ensure the right amount of power goes to one or both of two independent front and rear suspensions. Thanks to the automatic adaptive air suspension, the clearance can be elevated or lowered by 2 inches to assist with off-road crawling.
Even with the Silverado's brawny appearance, you won't have difficulty getting around in the city. At lower speeds, four-wheel-steering engages automatically, sharpening the turn radius for parking lots as well as suburban roads. At higher speeds and when towing, this same system engages as needed to improve handling and stability.
Tow/Haul mode, trailer hitch provisions, an integrated trailer brake controller, and hitch guidance are also included in both trim levels. Chevy's Advanced Trailering System comes standard in the RST. Chevy ATS allows you to set different profiles for different towable trailers and allows you to monitor the trailer temperature, tire pressure, and mileage.
Charging
The Silverado EV uses DC fast-charging capabilities of up to 350kW, which can add about 100 miles back to your battery in 10 minutes. The Silverado EV's Powerbase charging system, when it's combined with the optional accessory power bar, provides up to 10 outlets for a total of 10.2 kW at your disposal. These outlets can serve a variety of workplace or leisure demands, or use it as an emergency generator at home.
Using the supplied accessory charge cord, the Silverado EV can also charge another EV, allowing it to help drivers in need. Drivers can plan energy-efficient routes using the Chevy mobile app.
The Silverado EV RST includes access to Ultium Charge 360, giving access to over 100,000 publicly available charging connections across the United States. The Silverado EV WT comes with Ultium Charge 360 Fleet Service. This alternate package provides access to various charging locations and options for business enterprises, whether drivers return to the depot or take their trucks home.
Interior
The Silverado EV first appears in the Crew Cab style, with less overhang in the front. That means a more aggressive posture, more space, and better forward-down visibility. Passengers over 6 feet tall will easily get in and out thanks to the second row getting shifted backward. The RST has a fixed-glass roof that provides more visibility and headroom. New cab styles should appear over time.
Both trucks get first-row storage to help maximize interior space and meet a customer's various needs. A weatherproof, lockable container up front called the eTrunk offers extra room for large suitcases and toolboxes. Further accessory options are available, whether you need your truck for family or business. The RST also comes with a 7-gallon modular console that could easily fit a cooler.
At Stan McNabb Chevrolet of Columbia, we strive to give our customers a better car-buying experience. Feel free to browse our inventory of current Chevy models, including the latest Silverado. If you have any questions or want to learn more about a certain vehicle we have available, you can always contact us or come to our store.