Things You Need to Know About Chevy Warranty
When you buy a Chevy in Columbia, Tennessee, it's important to know the type of Chevrolet warranties your dealership provides. At Stan McNabb, we provide both standard Chevy warranty and extended warranty on new and used selected cars. We also provide a range of other warranties ranging from Gap Coverage to Advanced Lease Protection. 
Depending on the severity of a problem, car repair costs can be thousands of dollars. We ensure that you're well covered upon the purchase of new or used selected Chevy vehicles. 
Chevrolet Extended Limited Warranty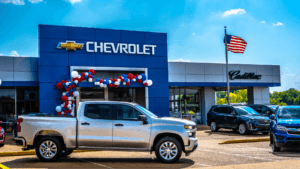 When you buy a new Chevy with us, you automatically get the standard three-year or 36,000 miles limited warranty, whichever comes first. You can also select a five-year or 60,000 miles option. 
This warranty is only available for new Chevrolet vehicles at the time of purchase. The benefits of this warranty include:
It covers all new Chevrolet vehicles. 

The manufacturer or the dealer cannot cancel this warranty.

You can transfer the warranty. 

You enjoy expert service and repair from Chevrolet Certified Service experts. 

No third parties. 

No deductibles. 
Why Extended Limited Warranty? 
The Extended Limited Warranty covers you when your standard protection plan expires — that is, when you drive over 36,000 miles or when your Chevy is over three years old. The extended coverage includes repairs and replacement of worn-out parts. It covers major or minor repairs and labor and routine maintenance costs.
Extended Factory Maintenance 
If your oil pump is defective or the powertrain is problematic, certified Chevrolet repair experts will repair it for you at no cost. The Extended Factory Maintenance extends the usual factory maintenance service including oil change, tire rotation, and inspection. 
When you buy a new Chevrolet, you're entitled to one maintenance visit within the first year of ownership. The extended factory maintenance extends this to three visits, which are valid within the first two years of ownership. 
Enjoy the Chevrolet Platinum Protection Plan 
With the platinum protection plan, you protect yourself from expensive repair costs once the manufacturer's warranty expires. The plan starts from 24 months or 24,000 miles to 60 months or 60,000 miles.  
AMT Warranty Corp renders this plan and covers the replacement and repair of various parts. The plan covers everything except:
Battery and its accessories.

Tires and wheels.

Brake rotors and drums.

Lenses, sealed beams, and light bulbs.

Trim components. 

Key fobs and Tire Pressure Sensors.

Emission components.

Maintenance services.
Benefits of the Platinum Protection Plan 
This Chevrolet protection plan comes with unique benefits. When you decide to rent another car when your Chevy is under repair, the plan can pay you up to $40 per day. However, this reimbursement is capped at $280 per visit.
The plan also covers towing expenses or road service charges up to $150 per occurrence. When your car breaks down over 100 miles from your home, the service contract will pay you up to $200 a day. You can also get a maximum of $35 for locksmith services. You can even transfer the coverage to the next vehicle owner. 
Canceling the Platinum Protection Plan 
 You can cancel the plan anytime including when you change ownership or lose your vehicle. If you decide to cancel the service contract within 60 days, you are entitled to a full refund. That's when you don't file any claims within the period. 
When you decide to cancel after 60 days or when you've filed some claims, you are entitled to a pro-rata refund. Where applicable, AMT Warranty Corp will subtract claims paid and cancellation fees. Besides this plan, at Stan McNabb, we customize protection plans for you. 
Chevrolet Gap Coverage 
Protect yourself from repaying auto loans when you lose your vehicle. In the case of a total loss, Gap Coverage ensures that you don't stress about the amount you owe that the insurance doesn't cover.
 It's available for new and leased vehicles only. It can also be customized to suit your loan or lease and can be canceled anytime. At the time of loss, this plan covers you for any of the remaining amounts you owe your auto loan provider. 
Pre-Paid Maintenance 
 To enjoy maintenance services at any General Motors dealership, use the pre-paid maintenance package. There're two types of this plan: the basic and the pre-paid maintenance plus. 
With the former, you get oil changes and tire rotation. With the Plus plan, you get more services including inspection of air filters, cabin air filters, sparks plugs, and transmission, and transfer case fluid changes.  At Stan McNabb Chevrolet of Columbia, we customize your pre-paid maintenance plan as per your Chevy's Oil Life Monitoring System. 
The 100,000 Mile Cover
The 5 years/100,000 miles warranty protects 2500 and 3500 Series heavy duty pickups equipped with a 6.6L Duramax Turbo-Diesel engine. The warranty is applicable to commercial and government entities who have leased five new vehicles, or owns/leases 15 cars and trucks. All new Chevrolet vehicles are covered against rust-through corrosion for six years or 100,000 miles.
Appearance Guard
The Chevrolet Appearance Guard ensures that your Chevy remains sleek with no dent or scratch to murk its appearance. This protection requires no deductible, it is refundable, it's transferable, and can be canceled at any time. It covers:
Minor chips or cracks up to four inches in the front windshield. 

Burns, cuts, rips, or tears smaller than two inches in diameter in your vehicle's seats, upholstery, or carpet. 

Key or key fob replacement cost of up to $400.

New, used, or leased Chevy vehicle.
Tire and Wheel Protection 
The tire and wheel protection is available for new vehicles and on eligible tires and can repair or replace flat tires and damaged wheels. The protection doesn't cover road hazards in designated construction zones. The Tire and Wheel Protection Plus covers repair costs due to cosmetic damages or scrapes on chrome, chrome-clad, and steel wheels. 
Lease Protection 
When you turn in your lease vehicle, the Chevrolet XS Wear Lease Protection covers dents, scratches, chipped paint, interior stains, chipped glass, tires, and wheels. It also covers missing parts if charges don't exceed $150 per missing item. 
The Advanced Lease Protection extends the coverage to:
Break pads. 

Batteries.

Headlamp bulb. 

Belts and hoses.

Windshield wiper blade. 

Wheel alignment and diagnostics. 

Towing and road service. 

Rental car coverage. 
At Stan McNabb Chevrolet of Columbia, we provide Chevrolet car warranties for new and used vehicles. We customize our plans to suit your budget and your unique situation. Visit us or contact our team to learn more about Stan McNabb Chevrolet warranties.