Can I Start My Car with the myChevrolet App?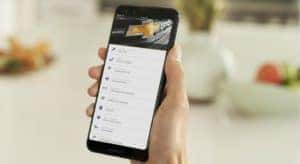 For most of us, the smartphone has become an essential part of our lives. We use it to keep in touch with our social networks, access our favorite music, go online shopping, and make phone calls. Now, you can also start your car with your phone.
When you buy a new Chevy, you can remotely access many of your vehicle's features by downloading the myChevrolet mobile app. From starting the car to scheduling service, finding a local restaurant, or even improving your driving habits, the myChevrolet app makes it easy. Here's how to make the most of this technology.
What Is the myChevrolet App?
The myChevrolet app turns your Android or Apple smartphone and your Apple Watch into a mobile command center for your car, even when you're away from it. With a simple free download, the app takes the experience of owning your Chevrolet to another level.
When you buy a new Chevy, you get free limited-time access to Chevrolet Connected Services and the OnStar Safety and Security Plan, and you can use the app in conjunction with these. Additionally, by subscribing to the Remote Access Plan, you can unlock your new Chevrolet's full potential.
Once you've downloaded the myChevrolet app, you can arrange the on-screen features and amenities the way you want them. Easy-to-understand how-to videos offer simple step-by-step guides to getting the most from the app's features. With Family Sharing, you can enable up to eight family members to share the myChevrolet app services' benefits.
Connected Services Features of the myChevrolet App
Using the myChevrolet app and Connected Services, you can set your preferred dealer or, if you're away from home, search for the nearest dealer. It enables you to schedule a service and check for vehicle recalls. With vehicle diagnostics, you can view maintenance items and receive alerts for recommended services. If you have a problem, you can contact OnStar or Chevrolet Support for roadside assistance.
Chevrolet Smart Driver enables you to get insight into your driving habits and provides tips to help improve your driving. This feature is also useful for keeping tabs on teenage drivers. You can view instances of hard braking or acceleration and monitor distances driven.
From the app's account feature, you can view your billing history for Connected Services and OnStar. You can also access your SiriusXM trial information, find additional subscription options, and identify your radio ID for managing your subscription. You can easily change the name or password for your Wi-Fi hot spot and purchase data plans. If you're enrolled in My Chevrolet Rewards, the app allows you to access your account and view your available points balance.
Trailering Features
If your vehicle is equipped with trailering features, you can access these via the myChevrolet app. Create, manage, and share trailer profiles, monitor trailer health and trailering-related vehicle status, set up pre-departure checklists, conduct a trailer lighting test, and create trailer maintenance reminders. A load calculator enables you to enter the weights of your truck, trailer, and load to help keep you within safe limits.
Remote Access Features
When you subscribe to the Remote Access Plan, you can use remote commands to operate certain features on appropriately equipped vehicles. Use the app to remotely personalize your car's infotainment system. Select your in-vehicle app downloads, and search for and reorder your favorite radio stations.
Remote functions include starting and stopping the engine, locking or unlocking the doors and tailgate, sounding the car's horn, and flashing the lights. If you forget where you parked, Vehicle Locate shows your vehicle's location on a map.
When another family member has the car, you can see where they are and the direction they're traveling. By setting boundary alerts, you'll be notified if your vehicle goes beyond a preset limit. You can also set and share arrival and departure alerts and enable selected contacts to get text notifications when the car arrives at a prearranged destination. Plan for a trip by searching for directions on your myChevrolet app. Then send the details directly to your car's navigation system.
If you have a compatible Google Assistant or Amazon Alexa-enabled device, you can use your voice to issue certain commands to your vehicle. Applicable instructions might include locking or unlocking the doors and starting or stopping the engine.
Special myChevrolet App Features
With an Android phone, you can use a fingerprint to issue remote commands or use OnStar PIN-protected features. You can use basic vehicle management commands with a long touch of the Android Launcher shortcut.
If you have a compatible iPhone, you can access the myChevrolet app using Face ID. For remote commands, you can use Touch ID, Face ID, or 3D Touch. You can also issue remote commands from your Apple Watch and use the Locate Vehicle service for directions to get back to your car.
With your new Chevy's Android Auto and Apple CarPlay compatibility, you can interact with the myChevrolet app's features through your car's infotainment touch-screen display. Depending on your vehicle, connect your smartphone wirelessly or by a Lightning or USB cable to display your phone's compatible apps. If you would like to learn more about GM rewards check out our page where we highlight the benefits of choosing Chevrolet.
Getting Started With the myChevrolet App
With a compatible Android smartphone, Apple iPhone, or Apple Watch, you can download the myChevrolet mobile app from Google Play or the Apple App Store. Sign in by entering your Chevrolet Owner Center credentials. When you sign in for the first time, the app will take you through step-by-step instructions to help you get started with your new vehicle's services.
The myChevrolet Mobile App home screen shows a list of features you can arrange in any order you want. To rearrange the features on the screen, select "Edit Dashboard" from the bottom of the home screen. To hide or make dashboard features visible, check or uncheck the features. To change the order of the features, grab the three bars to the right of the feature and drag it up or down.
Visit us at Stan McNabb Chevrolet of Columbia, and we'll be happy to show you how the myChevrolet app can make your Chevrolet ownership experience even better.